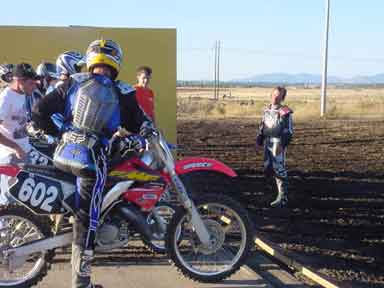 NEWS - 4th
The snow in this area is has started and its not going to stop. We went up to 49 this weekend and it was pretty phat.
NEWS - 24th
The picture above is from one of Eric Waunch's motocross class's out at the Extream Motorsports Complex. Sorry It took so long for me to update, but my computer has been really messed up, so I have to use Cory's. Heath Robertson has been riding the Northwest National Arenacross Series, according to him, (this is not offical) he is running on top in the INT. class. He also reported that he has been wrecking pretty hard. I can't wait till is come to the TRAC arena in Pasco, so I can see this kid ride. If you haven't herd, cuase I just cought wind of this. Tim Robertson is back in Spokane, and I guess he has himself a little S-10 that you might see him cruiseing around in. Check out the weekend adventure part, email me if you want the P/W. Late' Ben
NEWS - 4th
Hey everyone, Its back online. We did some pretty fun stuff this last weekend. If you look at the weekend adventures page, you will see the Pumpkin Smash from this last weekend. Sorry for not updating the site, I haven't really had anything to update it with, so I didn't. If you hadn't herd, Heath Robertson went to live with Andy deKruyf for the winter. And the big news of the weekend is that Konnrad Kuests bikes were stolen out of his barn. I don't really know that much about it, but when I talk to him, I'll make sure to update everyone. Some of the links arn't going to work right now, but they will be up as soon as I get a chance.
SMR's Goon of the Month
Zack Mayes